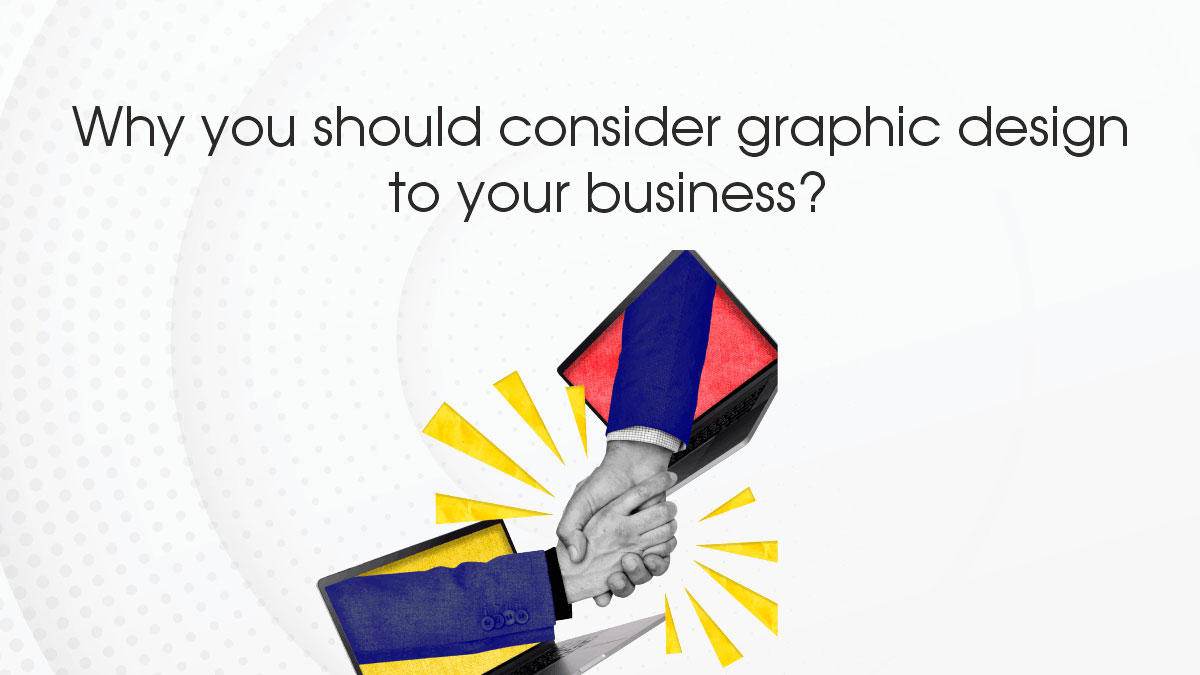 Why you should consider graphic design to your business?
For the process of visual communication and problem-solving through typography, photography, iconography and illustration. The field is considered a subset of visual communication and communication design, but sometimes the term "graphic design" is used synonymously. A great graphic design can attract attention, make complex data more digestible, and add a touch of professionalism to any project. It's time to dive into the article to know more!
What are the main reasons you should consider adding graphic design to your business?
1. To Create a Memorable First Impression: When people are first introduced to your business, they form an impression based on your visual identity—including your logo, business cards, website, and other marketing materials. These days, first impressions matter more than ever. With so much competition, you must ensure your visuals are on point to stay ahead of the curve.
2. To Communicate Complex Data Quickly and Easily Graphic design can communicate complex data in a way that is easy for people to understand at a glance. By using charts, graphs, and infographics, you can take complex topics and present them in a way that is visually appealing and easy to digest. It is especially important when trying to reach a wider audience online.
Here are five reasons to incorporate graphic design into your marketing mix:
It Makes Your Business Look More Professional If you want your business to look more professional, graphics are a must. A professionally designed logo and website will make your business look more credible and trustworthy.
Helps You Stand Out From The Competition In a world where businesses compete for attention online, it's important to make your business stand out. Graphic design can help you create a unique visual identity that will make your business stand out.
Connects With Your Customers Through graphic design, you can connect with your customers on an emotional level. A well-designed logo or website can create a lasting impression on your customers, helping them remember your business long after seeing it.
Increase Sales and Revenue If done correctly, graphic design can be a powerful marketing tool that can help increase sales and revenue for your business. You can persuade customers to buy your products or services by creating attention-grabbing visuals.
Graphic Design Is Visual Art Graphic design is a process of creating visuals using text, shapes, and images. It's used in branding, marketing collateral, website design, and more.
Communicates Your Message Quickly In today's fast-paced world, people don't have time to read long blocks of text. Graphic design allows you to communicate your message quickly and effectively without using too many words.
Makes Your Website More Eye-Catching Your website is often the first point of contact between you and potential customers. Therefore, making sure it looks good and is easy to navigate is essential. Incorporating graphic design into your website will make it more visually appealing and user-friendly.
Graphic Design Increases Sales and ROI Studies have shown that well-designed marketing materials can increase sales and ROI. It is

A good graphic design can make your product or company look more professional.
A well-designed graphic can help you stand out from your competitors.
Graphic design can help you communicate your message more effectively.
Good graphic design can make your website more user-friendly and engaging.
Graphic design can help you boost your sales and increase your profits.
Final Words:
There's no doubt that graphic design is a powerful tool. It can communicate messages, evoke emotions, and sell products. Suppose you're thinking about getting Graphics for your business, whether you're new to business or running it for a long time. Just reach out to Designshooters® for the best and most professional services. We hope this article has given you a better understanding of the field. There are many different types of graphic designers, and the best way to find out which one is right for you is to explore all the different options and see which one speaks to you the most. Thanks for reading!