Content Writing
Content Writing
Content Writing
We deliver inspirational and engaging content to help people create a beautiful brand. We provide top-notch content writing services for all your needs, from blog posts to ads. Our experts will generate appealing, original content tailored to your needs. We offer personal and business services, so whether you are looking for website content or SEO-friendly blogs, we understand the needs of your industry and can help you reach your goals.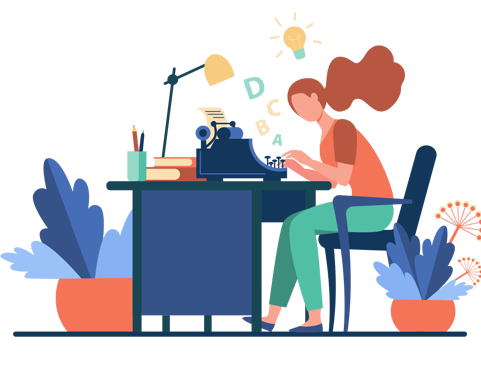 Need Quality Content? Contact Our Team
Content writing services are a great way to make your website look professional and relevant. It can be used for any kind of content you need to create, whether it's web pages, social media posts, blog posts, or even emails.
We offer a wide array of you must including

Social Media Management
Social media is where your business should be putting in its time and energy, so you must have an expert on your team who can help you manage your social media presence. We can help you create and maintain effective posts, respond to comments from followers, and keep track of analytics data to see what's working.
Copywriting
Whether you're writing for print or online, copywriting is an important part of making sure that you're communicating effectively with readers. We can help you create compelling content that delivers on your brand promise.

Content Marketing
Content marketing is all going to be valuable that people will want to share with others—and then sharing it across channels like social media and blogs to reach new audiences and increase engagement with existing ones. We can help you develop strategies for sharing content on these channels!
Web Pages
These are the most common types of content on the internet. They have both visual and written elements.
Blog Posts
Blog posts are short essays that can be written about anything from the latest celebrity gossip to more serious topics like politics and current events. Blogs also tend to attract a lot of readers because they're quick reads with a lot of information packed into them.
Social Media Posts
Social media posts are similar to blog posts in that they're short essays with a lot of information packed into them. They're also similar in that they often attract a lot of readers because people love talking about themselves on social media platforms!
Need More Sales? Write Better Copy Today
Why Us
Get your content marketing efforts on point with a knowledge of what works and how to make it work for you.
Quality Content: With a team of professional writers, you can be sure that the content you receive will be of the highest quality.
High-quality Content: With a team of experienced and professional writers, we can help you create high-quality content that engages your audience and drives results.
A New Way to Write: With content writing services, you can get your website's content written by a professional writer. This can help you save time and improve your website's quality.