Social Media Marketing
Social Media Marketing
Best Social Media Services Providers in Chandigarh, Zirakpur, Mohali, and Punjab
Social media marketing is a strategy to use social media platforms such as Facebook, Twitter, Instagram, YouTube, or Linkedin to achieve goals such as acquiring new customers, engaging existing customers, and building trust.
Increase Your Business Presence with Our Social Media Marketing Services
The rise of social media has led to considerable growth in internet marketing and advertising. It is an integral part of every business marketing plan. We have years of experience in this field as well as a thorough understanding of the requirements needed for successful social media marketing.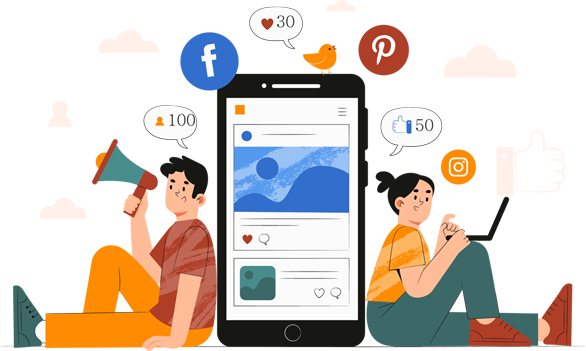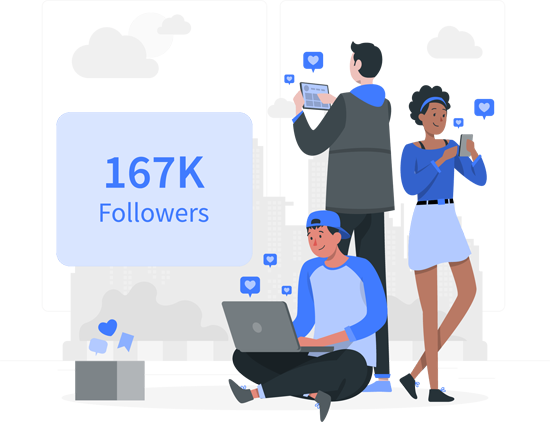 Social Media Marketing Services to Grow Your Business
Social Media Marketing is a full-service with distinct strategies to grow. We help businesses grow their online presence through strategic social media marketing. We can help you with everything from content creation to paid advertising.
The Social Media Marketing Guide You'll Ever Need
Designshooters is the best social media services provider. We deliver high-quality and affordable services to businesses of all sizes. Our services include social media marketing, social media management, and social media consulting. We have a team of expert professionals who are passionate about helping businesses grow online. We offer a wide range of services that are designed to help businesses succeed on social media. Contact us today to learn more about our services and how we can help you grow your business.
Privileges of Social Media Marketing
There are many benefits to social media, but some of the most important ones are:
Increased brand awareness and reach: With social media, you can connect with a larger audience more easily and effectively than ever before. You can also target specific demographics and interest groups with your content to ensure that your message is reaching the right people.
Improved customer engagement: Social media provides an excellent platform for engaging with your customers. You can respond to their queries and comments in real time, build relationships with them, and understand their needs better. This will help you improve your products and services to better meet their expectations.
Generate leads and sales: By sharing compelling content on social media, you can drive traffic back to your website or online store where they can make a purchase. You can also use social media ads to target specific users who are more likely to convert into customers.
Boost search engine rankings: Search engines like Google consider social signals when determining where to rank websites in search results. Therefore, by being active on social media, you can improve your chances of appearing higher on search engine results pages (SERPs), which will in turn lead to more website visitors.
Get insights into your industry: Social media is a great way to stay up-to-date with what's happening in your industry. You can follow leaders and influencers in your field, join relevant discussions, and learn about new
What services do Designshooters® offer?
Designshooters® offers a wide range of social media services to help businesses improve their online presence and reach their target audiences. Services include social media strategy and consulting, social media account management, content creation, paid social media advertising, and more.
We have a team of experienced social media professionals who are passionate about helping businesses succeed online. We work closely with our clients to understand their unique needs and goals and develop customized strategies that deliver results.
Whether you're looking to boost brand awareness, drive website traffic, or generate leads and sales, we can help you achieve your objectives.
Contact us today to learn more about our services and how we can help your business grow.
ENTREPRENEUR
Validity 1 Month
Google Listing / One Time
Digital Business Card (1) / One Time
Social Media Listing / on 2 Sites / One Time
Facebook page likes (500)
5 Star FB Reviews (10)
5 Star Google Reviews (10)
Content Research & Development
Unique Custom Content/ Trending #Tags
Licensed HD Pictures
Social Media Designs (8)
Boost Rs. 100/- Each on FB Page
Reach Approx. 600 to 1200/ Per Boost
1 Promo Video (20 Sec)
Upload on FB Page
Monthly Report
Dedicated Relationship Manager
GROWING BUSINESS
Validity 3 Months
Google Listing / One Time
Digital Business Cards (3) / One Time
Social Media Listing / on 6 Sites / One Time
Facebook page likes (2500)
5 Star FB Reviews (25)
5 Star Google Reviews (25)
Content Research & Development
Unique Custom Content/ Trending #Tags
Licensed HD Pictures
Social Media Designs (30)
Boost Rs. 200/- Each on FB Page
Reach Approx. 1200 to 3000 / Per Boost
2 Promo Videos (20 Sec)
Upload on FB & Instagram
Monthly Report
Dedicated Relationship Manager
PRO BUSINESS
Validity 6 Months
Google Listing / One Time
Classified Listing (6)
Social Media Listing / on 12 Sites / One Time
Digital Business Cards (6) / One Time
Facebook Ads setup (12 Ads)
Facebook page likes (5000)
5 Star Google Reviews (50)
Content Research & Development
Unique Custom Content/ Trending #Tags
Licensed HD Pictures
Social Media Designs (72)
Boost Rs. 300/- Each on FB Page
Reach Approx. 1800 to 4000 / Per Boost
5 Promo Videos (20 Sec)
Upload on FB, Instagram, Pinterest or Google
Monthly Report
Dedicated Relationship Manager