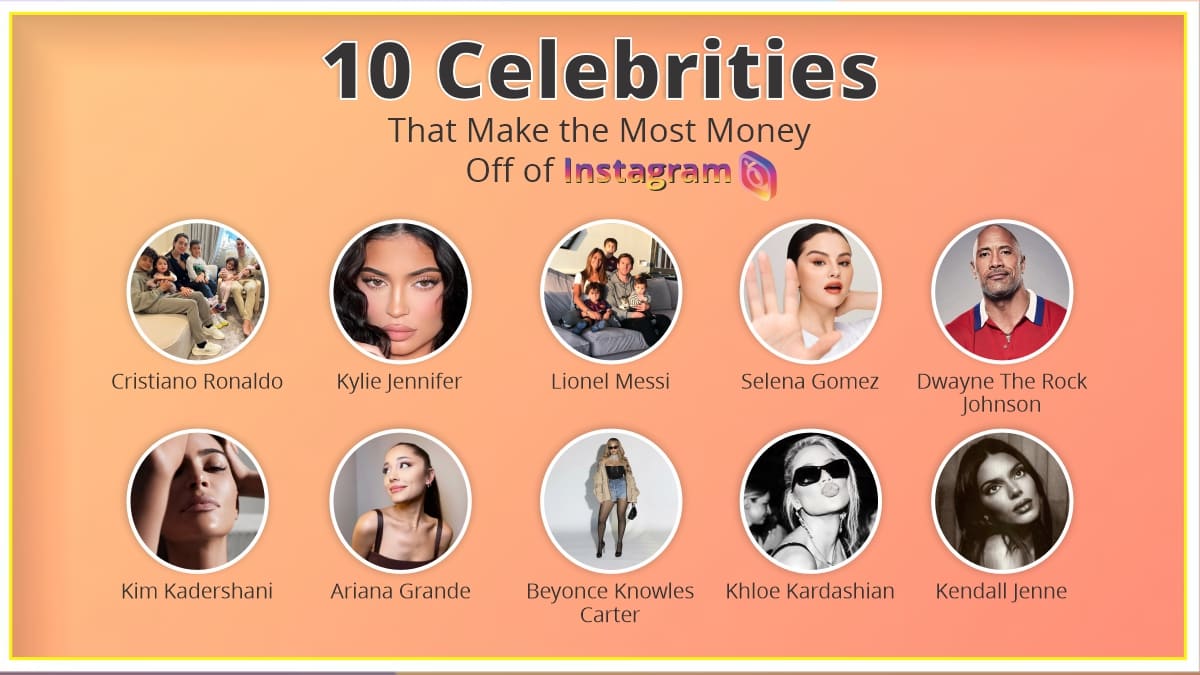 10 Celebrities That Make the Most Money Off of Instagram
Instagram has evolved into a platform for the rich and renowned, from movie stars to social media stars. It comes as no surprise that some of the most powerful individuals in the world are using this effective marketing strategy to increase their influence and make a lot of money. The amount of money these celebs can generate from Instagram posts, however, is surprising. Top influencers can monetize their reach in a variety of ways, from paid content to product placement agreements.
In this blog post, we will take a look at the Top 10 earning celebrities on Instagram and what strategies they have used to increase their earnings.
Top 10 earning celebrities on Instagram
1. Cristiano Ronaldo
Cristiano Ronaldo is the highest-paid celebrity on Instagram, earning an estimated $2,397,000 per post. The Portuguese soccer star has over 442,267,575 followers on the social media platform, and his posts often promote products like his CR7 line of clothing and footwear.
2. Kylie Jennifer
Kylie Jenner is one of the most popular celebrities on Instagram, with over 122 million followers. She is also one of the highest-earning celebrities on the platform, making an estimated $1,835,000 per post. Jenner's massive following and high earning potential make her one of the most successful celebrities on Instagram.
3. Lionel Messi
Lionel Messi is the highest-earning celebrity on Instagram, making an estimated $1,777,000 per post. The Argentinian soccer star has over 338,626,294 followers on the platform and is one of the most popular athletes in the world. Messi endorses some brands on Instagram, including Adidas, Huawei, and Pepsi. He also frequently posts about his family and charitable work.
4. Selena Gomez
As one of the most followed people on Instagram, Selena Gomez naturally commands a high price for sponsored posts. The "Wizards of Waverly Place" star can charge up to $1,735,000 per post, according to hopper HQ.
While that may seem like a lot of money, consider that Gomez has nearly 320,082,515 followers on the platform. That means that her reach is vast, and her posts have the potential to generate a lot of engagement. For brands looking to target young consumers, Gomez is an attractive option.
In addition to her earnings from sponsored posts, Gomez also makes money from product endorsements and partnerships. She has deals with companies like Puma and Coach and has her line of clothing and cosmetics. All of this income has helped Selena Gomez become one of the highest-paid celebrities in the world.
5. Dwayne The Rock Johnson
The Rock is the name of American actor, producer, and semi-retired professional wrestler Dwayne Johnson. He participated in Canadian Football League (CFL) games for the Calgary Stampeders before being released two months into the 1995 campaign. This inspired him to follow in the footsteps of his father Rocky Johnson and grandfather Peter Maivia and become a professional wrestler.
He entered WWE (then World Wrestling Federation) in 1996 as a third-generation wrestler and gained mainstream fame after adopting the persona of "The Rock", which he used until 2004. During this time, he became one of WWE's top stars and won several championship titles. After taking a hiatus from wrestling in 2004, Johnson focused on his acting career; he has since appeared in numerous films including The Mummy Returns (2001), Tooth Fairy (2010), Fast & Furious 6 (2013), G.I. Joe: Retaliation (2013), Hercules (2014), and Central Intelligence (2016). He returned to WWE part-time in 2011–13 and continues to make sporadic appearances.
Johnson has said that he does not plan on retiring from acting or wrestling anytime soon and plans on doing both for as long as he physically can. In 2022, Johnson's per post was estimated to be $1,713,000.
6. Kim Kadershani
Kim Kardashian West is an American reality television personality, socialite, model, businesswoman, and actress. She rose to fame on the reality television show Keeping Up with the Kardashians from 2007 to the present. Her estimated cost per post is recorded to be 1,689,000 making her one of the richest women in America.
Kardashian West has made a name for herself as a successful businesswoman. She has launched several businesses, including a clothing line, two mobile games, and a book. She also had contracts with several brands. In 2015, she was nominated as one of Forbes magazine's "Women to Watch".
7. Ariana Grande
Ariana Grande is one of the most popular celebrities on Instagram, with over 311,302,908 followers. She is also one of the highest-earning celebrities on the platform, making an estimated $1,687,000 per post.
Grande has used her massive following to promote a variety of products and brands, including luxury fashion labels, beauty products, and food and beverage companies. She has also been involved in several high-profile marketing campaigns, such as her partnership with Starbucks for their Holiday cups.
In addition to her sponsored posts, Grande also earns revenue from her merchandise line and through ticket sales for her live shows. Her popularity has made her one of the most in-demand performers in the world, and she is currently one of the highest-paid celebrities under 30.
8. Beyonce Knowles Carter
Beyonce Knowles Carter is one of the most followed celebrities on Instagram, with over 256,957,282 followers. She is also one of the top earners, making an estimated $1,393,000 per post. That means that for every sponsored post she does, she earns over a million dollars!
Beyonce is known for her lavish lifestyle, and she often posts photos of herself enjoying expensive vacations, designer clothing, and luxurious cars. She also uses her platform to promote her various business ventures, including her fashion line Ivy Park and her athleisure brand BEYONCEXO.
Beyonce is one of the most successful pop stars in the world, and her Instagram account reflects that. If you're looking for a glimpse into the life of a celebrity icon, then be sure to follow Beyonce on Instagram!
9. Khloe Kardashian
Khloe Kardashian is an American reality television identity, extrovert, and model. She has come off on the TV series named Keeping Up with the Kardashians. Her net wealth is estimated to be $40 million. She came in second place in terms of Instagram celebrity income in 2015, trailing only her sister Kendall Jenner. In 2022, Khloe Kardashian's earnings from Instagram are estimated to be $1,320,000 per post.
10. Kendall Jenner
Kendall Jenner is one of the most popular celebrities on Instagram. She has over 243,609,121 followers and earns an estimated $1,290, 000 for each sponsored post. Jenner is also a successful model and has appeared on the cover of Vogue and Harper's Bazaar.
What Do These Celebs Have in Common?
You may have noticed some similarities between the top 10 highest-earning celebrities on Instagram in 2022.
Take a gander at the similarities they share in common below:
They all have massive followings. Each of these celebrities has over 10 million followers, with many having over 20 million.
They post frequently and consistently. All of these celebs post content regularly, allowing them to keep their followers engaged with new content and updates.
They all use promotional strategies to increase engagement and reach new audiences. This includes partnering with brands, leveraging influencer marketing, hosting giveaways and contests, and more!
They're all highly active on social media platforms other than Instagram, including YouTube, Twitter, TikTok and Facebook. This helps them expand their reach across multiple networks, resulting in greater visibility and potential for more income-generation opportunities.
Last but not least: they're all incredibly talented people who have mastered the art of self-promotion!
The Influence of Brand Deals & Business Ventures
You may have heard of the phrase 'get rich or die tryin' - and in 2022, that phrase is certainly being lived out by celebrities on Instagram, who are banking millions through lucrative brand deals and business ventures.
Most of these celebrities have established brands of their own, and many of them have leveraged their large followings to bring in income from brand deals. Take Kim Kardashian West, for example, she's made more than $127 million since 2019 alone for her KKW Beauty products.
Others have made money through business investments. Drake is estimated to be worth more than $180 million, much of it coming from his partnership with a tech company called Dreamtrips.
These celebrities prove that leveraging social media presence into a profitable brand isn't just possible - it can also be incredibly lucrative. With the right strategy, anyone can turn a passion project into an empire!
How to Become a Millionaire Celebrity on Social Media
To become a millionaire star on social media, you don't have to be born with a silver spoon in your mouth. You can follow their example and develop your online presence into a hugely successful business with the correct approach.
Invest in Yourself: Create compelling video content and imagery to help you stick out from the competition while showcasing your abilities. If you intend to stream frequently, don't be afraid to make investments in things like high-quality equipment, graphic design from an expert, or even bandwidth upgrades.
Find Your Niche: It takes focusing on and perfecting a niche to succeed on social media. Find out what makes you different, then use that to attract a following that appreciates the difference. Start developing relationships with followers who consistently interact with your content before you can monetize your influence.
Grow Your Following: The key to gaining more followers is raising awareness, and you can do this by being involved on several different social media platforms. Begin by making connections with like-minded individuals, and don't forget to network with reputable influencers. If they share or collaborate with you, they can help you reach a much wider audience.
Create content that fans will enjoy if you want to engage with them in the era of Internet celebrities. End each post with a call to action or shout-out to engage your audience and continue the discussion while also showing them value.
Conclusion
It is not surprising that the biggest celebrities in the world are benefiting from the shift to digital as the world continues to migrate online. Along with the more conventional celebrities, some of the highest-paid people today also include influencers and networks that have built their empires. The list of celebrities who make millions from social media is constantly growing and includes everyone from sports to reality TV stars. These celebrities are either getting rich or going broke when it comes to using social media to earn money.